This is a bit unusual. I got an email from AMD PR this week asking me to correct the Bulldozer transistor count in our Sandy Bridge E review. The incorrect number, provided to me (and other reviewers) by AMD PR around 3 months ago was 2 billion transistors. The actual transistor count for Bulldozer is apparently 1.2 billion transistors. I don't have an explanation as to why the original number was wrong, just that the new number has been triple checked by my contact and is indeed right. The total die area for a 4-module/8-core Bulldozer remains correct at 315mm2.
CPU Specification Comparison
CPU
Manufacturing Process
Cores
Transistor Count
Die Size
AMD Bulldozer 8C
32nm
8
1.2B ~2B
315mm2
AMD Thuban 6C
45nm
6
904M
346mm2
AMD Deneb 4C
45nm
4
758M
258mm2
Intel Gulftown 6C
32nm
6
1.17B
240mm2
Intel Sandy Bridge E (6C)
32nm
6
2.27B
435mm2
Intel Nehalem/Bloomfield 4C
45nm
4
731M
263mm2
Intel Sandy Bridge 4C
32nm
4
995M
216mm2
Intel Lynnfield 4C
45nm
4
774M
296mm2
Intel Clarkdale 2C
32nm
2
384M
81mm2
Intel Sandy Bridge 2C (GT1)
32nm
2
504M
131mm2
Intel Sandy Bridge 2C (GT2)
32nm
2
624M
149mm2
Despite the downward revision in Bulldozer's transistor count by 800M, AMD's first high-end 32nm processor still boasts a higher transistor density than any of its 45nm predecessors (as you'd expect):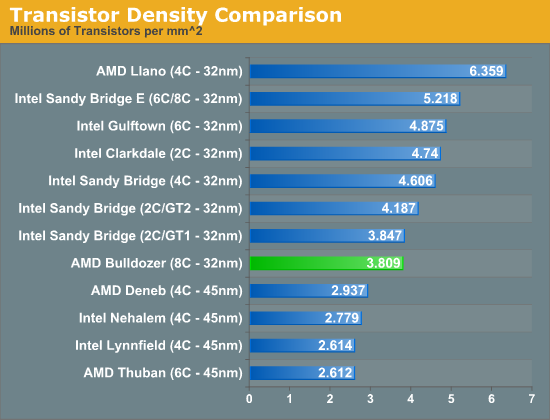 Transistor density depends on more than just process technology. The design of the chip itself including details like the balance between logic, cache and IO transistors can have a major impact on how compact the die ends up being. Higher transistor densities are generally more desirable to a manufacturer (fewer defects per die, more die per wafer, lower costs), but from the end user's perspective the overall price/performance (and power?) ratio is what ultimately matters.