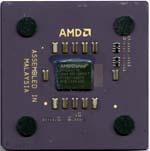 If you asked us two years ago whether AMD was a high end or a low end value contender the answer would most definitely be low end.  While the K6, K6-2 and K6-III were definitely competitive parts in terms of performance under business applications and even under some games with 3DNow! optimization, they were plagued by a generally weak FPU and with the exception of the K6-III, a slow L2 cache.  Those two drawbacks kept the K6-X line of processors from really making it in the market as high end solutions of any sort. 
To make matters even worse, the release of Intel's Celeron with it's 128KB of on-die L2 cache put the entire K6-X line to shame as it offered clearly superior performance at a virtually identical cost. 
The release of the Athlon in August 1999 changed things dramatically for AMD.  They were no longer just the value performance leader, they were the performance leader.  Since then there has been an ongoing battle between AMD and Intel for that position of desktop performance leader, a battle in which AMD has remained fairly competitive by not only having such a solid product under their wing but by also making sure to capitalize on Intel's recent shortcomings. 
The Athlon is in a very good position right now, especially when taking into account the recent performance boost the line was given courtesy of its, as AMD likes to call it, 256KB of "performance enhancing on-chip L2 cache" (but for simplicity's sake we'll just call it the Thunderbird). 
With a solid foundation built around the Athlon, it was time for AMD to fill out the next part of the processor spectrum they provided us with close to a year ago: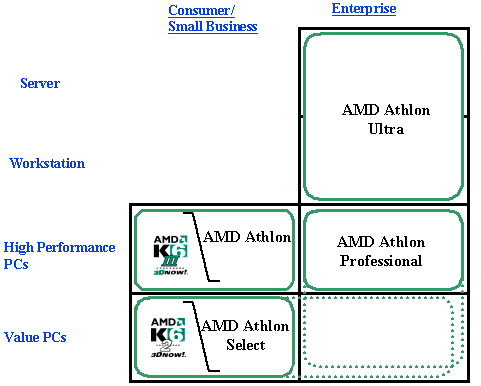 Athlon roadmap circa 1999
The AMD Athlon Select, as it was known before AMD had officially said anything about it, quickly became dubbed the "Spitfire" and earlier this year gained the title Duron, in order to distance it from the Athlon line.  While AMD started shipping Duron parts to OEMs on June 5th along with their Thunderbird release, today is the official introduction of the processor and today we can finally let you all in on the performance you can expect from the second Socket-A processor to come from AMD.