Through Chipworks, we recently learned that Apple's revised A5 SoC (S5L8942) is built on a 32nm Samsung HKMG process. While its presence in the Apple TV (3rd generation) which we've reviewed and inspected is an absolute certainty, up until recently it hasn't been as common knowledge that the iPad 2,4 ($399 cost reduced Wi-Fi model) also contains the same S5L8942 SoC but with both A9 cores enabled, as opposed to the single core A9 configuration of the Apple TV 3.
To quell any possible naysayers, I grabbed the "iPad2,4_5.1_9B176_Restore" image a while ago, opened it up, and inspected the kernelcache for references to S5L8942, which there are. Note that the iPad2,4 is k93aap, there are numerous other references to S5L8942 elsewhere, including the buildmanifest plist, eg "Firmware/all_flash/all_flash.k93aap.production/glyphcharging.s5l8942x.img3." There's no question about S5L8942 (A5R2) being inside iPad2,4.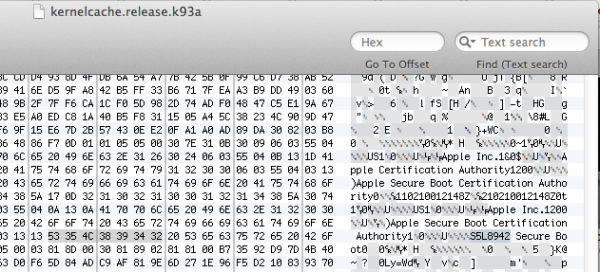 The end result is that if you're an iPad2,4 owner, you've got Samsung 32nm HKMG silicon inside. There's no doubt about iPad2,4 being out and in the wild either, as a number of geekbench 2 runs have popped up since release on their online result browser, which I've been watching like a hawk. As an aside, performance between the S5L8942 (A5R2) and S5L8940 (A5) is virtually unchanged between the iPad2,4 and iPad2,1 if you compare runs on the result browser.
The interesting other question is whether iPad2,4 owners have improved battery life compared to those with iPad2,1 (WiFi), though admittedly that's not going to be a common upgrade path for existing iPad 2 owners to check out. I no longer own an iPad 2 but am going to set out to measure and compare to see just how much of a difference there is, which in turn might say something interesting about Samsung's 32nm HKMG process.
Overall, Apple porting the existing A5 design to Samsung's 32nm HKMG process makes a lot of sense to both test the waters and figure out any design issues, as well as not jeopardize production for the high end. At this point seeing another future Apple product using Samsung 32nm HKMG would not be very surprising.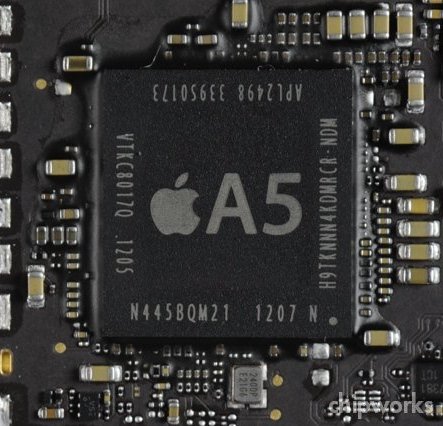 32nm A5 in iPad 2,4 (Source: Chipworks)
Update: Chipworks has also updated and confirmed with a teardown of an iPad2,4 that the expected 32nm A5 S5L8942 is indeed inside.