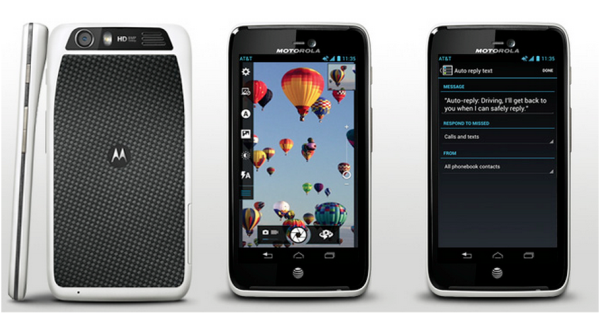 Image courtesy of Droid-Life.
Somewhere a Motorola employee is wishing he'd double-checked that launch date. Splashing into the news after a bit of a hiatus, Motorola briefly revealed the splashpage for the new Atrix HD destined for AT&T this morning. The page has since been pulled, but not before showing off some interesting details. The RAZR-like design isn't terribly surprising, but is a strong departure from the more curvy Atrix design language. The screen has grown to a 1280 x 720 4.5" size with what's being referred to as ColorBoost technology. In order to hit that 8.4 mm thickness, the display is likely of the AMOLED variety, so PenTile will be present. As we've seen, though, it hardly matters at these pixel densities. Motorola, apparently, didn't have to resort to AMOLED, unlike the RAZR before it. This comes from a spec page entry we missed earlier, hence the update. We've seen some thin LCDs before, and we've seen Motorola use PenTile on LCDs before, too; so display judgments will have to wait till we have some hands-on time.
We're left to wonder, though, what chipset powers this third Atrix variant? For the RAZR, Motorola opted for the TI OMAP 4 solution, and their own Wrigley LTE baseband. These days, Qualcomm Snapdragon has been taking most of the design wins for LTE devices because of its power sipping habits. So, could the Atrix HD be revisiting the OMAP 4 well, or has it moved on to faster moving water? We'll wait and see.
Source: Droid-Life