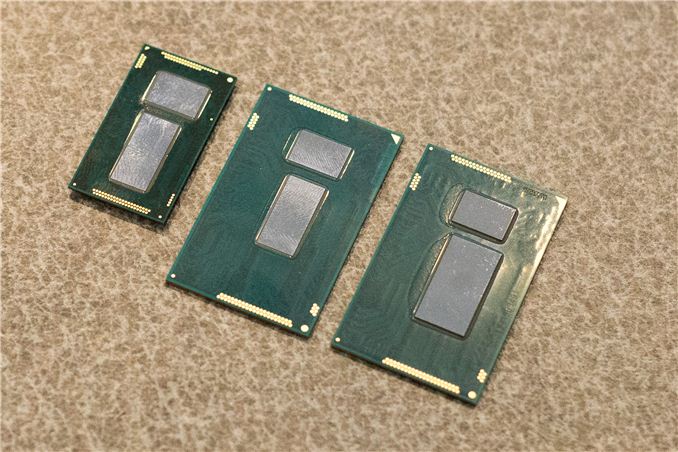 First, a quick recap. There are four different Haswell versions: D, M, ULT and ULX. D is for desktop, M is for mobile, ULT is for Ultrabooks and ULX is for low power tablet designs. The latter carries the Y-series branding.
Broadwell, the 14nm successor to Haswell, will likely be available in similar flavors (there's still some uncertainty on whether or not we'll see a desktop Broadwell though). Earlier today Intel flashed a Broadwell sample up on stage at IDF and I noticed its smaller package compared to the single chip Haswell solution. I managed to get some hands on time with the Broadwell chip that was shown off.
Broadwell is pin compatible with Haswell. In the pic above (and below) the two chips on the right are pin compatible Broadwell and Haswell ULT samples. The chip on the left however is a newer, smaller form factor version. This smaller package will only be offered for Broadwell ULX (Y-series) parts.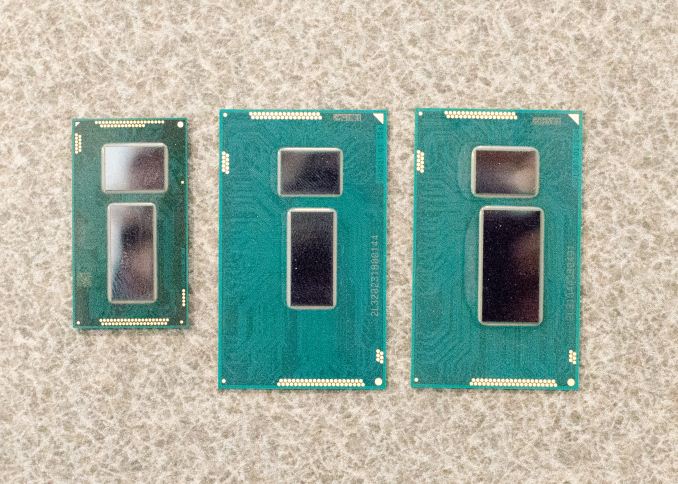 From left to right: Broadwell SFF, Broadwell ULT/ULX and Haswell ULT/ULX
Given that Broadwell will likely usher in a new era of hybrid tablet/notebook devices, I expect this smaller package was built at the request of one or more large OEMs looking to offer a premium tablet/2-in-1 option but were put off by the board area requirements of Haswell ULX vs. a traditional ARM solution. By the looks of it, this smaller Broadwell still won't be quite as small as what you can presently get from the ARM camp but it's probably a very useful update.
I'm running between meetings now - but anyone want to use the photos here and our Haswell die area info to come up with an estimate for Broadwell SFF package size and Broadwell die size? :)