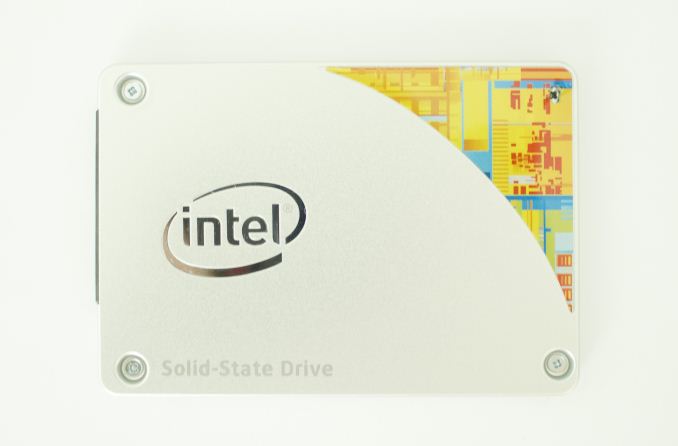 Last year Intel introduced the SSD Pro 1500, the company's first SSD for the business segment. The business market is different from the typical client market in the sense that businesses tend to value security and manageability over performance and price. According to a study performed by the Ponemon Institute, the average cost of a lost corporate laptop is around $50,000, which consists of lost intellectual property, data breaches and legal costs. The same study highlights that on average, 2.32% of corporate laptops are lost in one year with the total cost of lost laptops being $6.4 million per organization on average. As a result of the cost, It is obvious that companies want to minimize the damages since the value of the data is constantly increasing and so is the number of devices we carry with us.
The easiest and most efficient way to protect data is to encrypt it. While the Pro 1500 used the same SandForce SF-2281 controller as Intel's client SSDs, the Pro 1500 brought support for hardware accelerated encryption in the form of TCG Opal 1.0 compliance. The benefit of Opal is the fact that it utilizes the drive's built-in hardware encryption, which is more secure than software encryption (for instance software can always corrupt or be negated by malware) and does not degrade performance. Additionally, Opal is much easier to manage than ATA passwords because ultimately all management is done by software, meaning that all the benefits of software encryption are present (e.g. remote wiping and other IT admin features).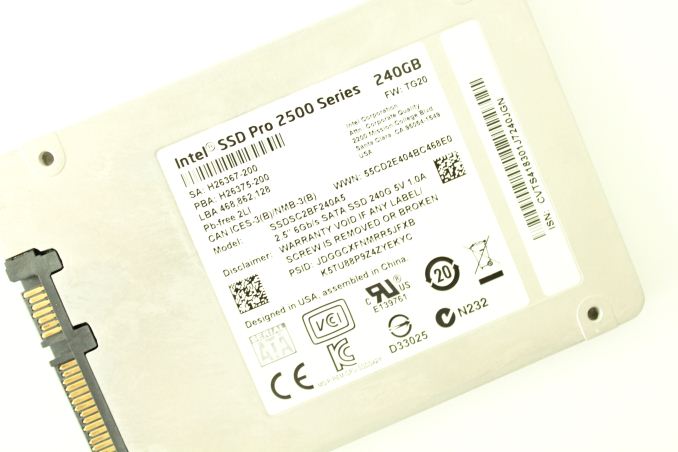 With the Pro 2500 Intel is updating the Opal spec to 2.0 as well as adding support for the IEEE-1667 standard, which is required for Microsoft eDrive. The Opal 2.0 spec adds some manageability features (like support for more administrators and users per device) and it also brings support for varying block sizes. Moreover, Intel is also including a new SSD Pro Administrator Tool with the Pro 2500 that brings PSID revert functionality.
Similar to the Pro 1500, Intel's vPro technology is supported in the Pro 2500. vPro and Intel's Setup and Configuration Software allow for remote management of the whole system including the encrypted drive, which makes the life of an IT administrator much easier since there is no need to physically access the device.
Another difference compared to the Pro 1500 is that the Pro 2500 will also be available at retail. The Pro 1500 was limited to OEMs and SIs, which is why we never got to review the drive. Intel said that initially it was easier to go through the OEMs to make sure the system shipped with the necessary software for Opal encryption, but nowadays the software support is much better.
Intel SSD Pro 2500 Specifications
Capacity
120GB
180GB
240GB
360GB
480GB
Form Factors
2.5"
2.5", M.2 2280 & M.2 2260
2.5" & M.2 2280
2.5"
Controller
SandForce SF-2281
NAND
SK Hynix 64Gbit 20nm MLC
Sequential Read
540MB/s
540MB/s
540MB/s
540MB/s
540MB/s
Sequential Write
490MB/s
490MB/s
490MB/s
490MB/s
490MB/s
4KB Random Read
24K IOPS
41K IOPS
41K IOPS
45K IOPS
48K IOPS
4KB Random Write
80K IOPS
80K IOPS
80K IOPS
33K IOPS
37K IOPS
Idle Power
5mW (DevSleep) / 55mW (Slumber)
Max Power
3.4W
4.0W
4.9W
5.5W
5.8W
Encryption
TCG Opal 2.0 + IEEE-1667 (eDrive)
Endurance
36.5TB (20GB/day for 5 years)
Warranty
Five years
Given that we are dealing with an SF-2281 based drive, the performance figures do not present any surprises. With compressible data even the 120GB model achieves nearly 500MB/s in sequential writes, although what is notable is that when going above 240GB the random write performance takes a rather substantial hit. This is unique to SandForce and I have seen it with other drives as well but I am not sure what exactly is causing it. I am guessing that the decrease is due to SandForce's NAND mapping table design and structure because the size of the table increases with capacities. Since SandForce does not use any external DRAM for caching of the NAND mapping table, the table size is limited and likely needs a lot more defragmentation and optimization at the higher capacities to fit in the controller's integrated SRAM cache.

Probably the most interesting tidbit of the Pro 2500 is the usage of SK Hynix NAND as this is the first time Intel is sourcing third party NAND from someone other than Micron. Bringing on SK Hynix as a new supplier will not change Intel's commitment to IMFT nor will it affect Intel's supply agreement with Micron -- it is simply an effort to guarantee sufficient NAND supply in the future. Intel already experienced some NAND shortage over the past year, so an additional NAND source is necessary as the demand for SSDs continues to grow.
Intel's contract with SK Hynix includes pre-packaged and pre-validated NAND, although Intel still does their own additional validation to ensure that the NAND meets the same quality standards as their own NAND. Intel also guaranteed that the SK Hynix NAND is SKU specific and they will not be using multiple NAND suppliers in one product. In other words, buyers do not have to beware that the NAND in the Pro 2500 or any other Intel SSD is going to change without a notice. Currently Intel is only using SK Hynix NAND in the Pro 2500 but there will be more products with SK Hynix NAND in the future.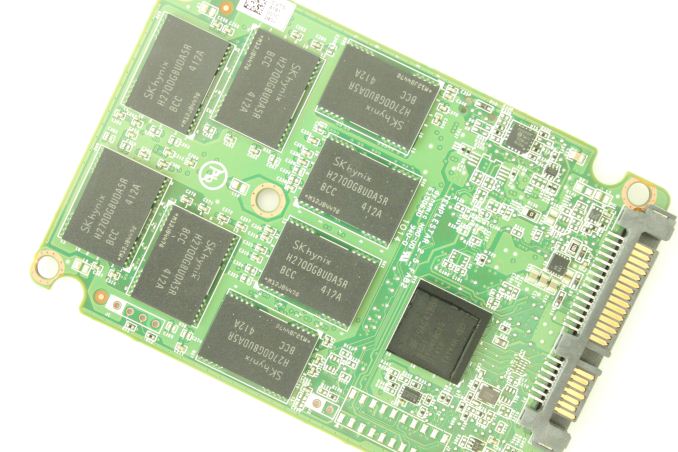 Our 240GB sample has a total of sixteen NAND packages with each package having two 64Gbit (8GB) dies inside. Since the Pro 2500 is a SandForce drive, the capacity of one die is dedicated to RAISE parity to protect against page and block level failures.
Playing With The SSD Pro Administrator Tool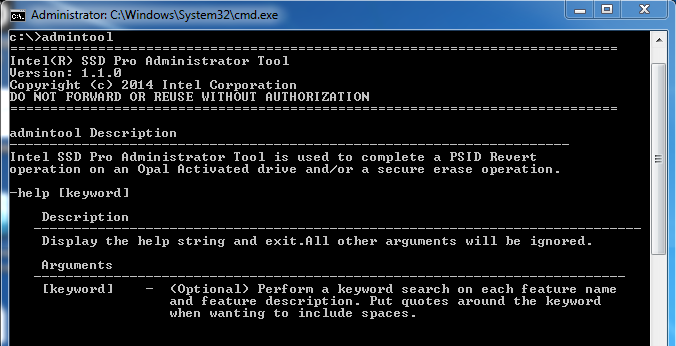 The SSD Pro Administrator Tool is a simple command line utility for IT administrators that is provided with the Pro 2500. The main function of the tool is to provide IT administrators with a way to perform a PSID revert in case the encryption key is lost. The PSID is a 32-character code that is printed on back of the SSD and basically, without the PSID and the PSID revert tool, the SSD would be a brick in case the encryption key is lost. Obiously all the data in the drive will be lost but the drive itself can be repurposed.
Unfortunately I could not get eDrive to work on my system in order to try the PSID revert because without active Opal encryption, the PSID revert command will not run at all. I really hate how difficult it is to get eDrive working because of all the requirements. With third party encryption tools, enabling Opal encryption should be as simple as flipping a switch but with eDrive that is certainly not the case (at least with a typical DIY desktop -- corporate PCs may be a different story).
Another feature in the tool is for enabling eDrive. By default, the eDrive support is not enabled (i.e. listed as 'False') but enabling it only requires a single command. The command will not actually enable the eDrive BitLocker encryption but will rather just make the drive "eDrive ready" as Intel calls it. To enable hardware accelerated BitLocker encryption, you will have to do the same steps as with any other eDrive capable drive. Intel told me that the reason behind eDrive support being disabled by default is that during the Windows install process, BitLocker encryption will automatically be enabled if the drive and the rest of the platform support eDrive (like many corporate laptops do). As many businesses use third party encryption software, having BitLocker encryption on by default would just slow down the initial install process, so Intel decided to disable eDrive and have an option to enable it if needed.
Test System
| | |
| --- | --- |
| CPU | Intel Core i5-2500K running at 3.3GHz (Turbo and EIST enabled) |
| Motherboard | AsRock Z68 Pro3 |
| Chipset | Intel Z68 |
| Chipset Drivers | Intel 9.1.1.1015 + Intel RST 10.2 |
| Memory | G.Skill RipjawsX DDR3-1600 4 x 8GB (9-9-9-24) |
| Video Card | Palit GeForce GTX 770 JetStream 2GB GDDR5 (1150MHz core clock; 3505MHz GDDR5 effective) |
| Video Drivers | NVIDIA GeForce 332.21 WHQL |
| Desktop Resolution | 1920 x 1080 |
| OS | Windows 7 x64 |
Thanks to G.Skill for the RipjawsX 32GB DDR3 DRAM kit