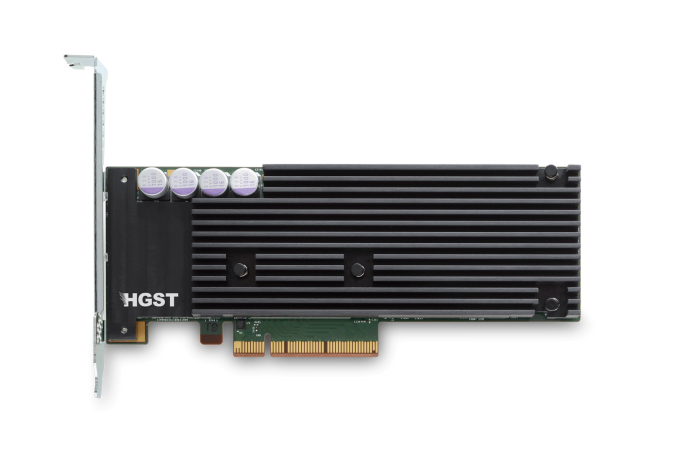 Continuing with our Flash Memory Summit coverage, HGST announced their FlashMAX III enterprise SSD, which is the first fruit of HGST's Virident acquistion and continues Virident's FlashMAX brand. The FlashMAX III will come in half-height, half-length form factor and will be available in capacities of 1100GB, 1650GB and 2200GB. The controller is an FPGA-based 32-channel design with a PCIe 3.0 x8 interface, but there is no NVMe support since the FlashMAX III builds on the same architecture as the previous generation FlashMAX II.
HGST FlashMAX III Specifications
Capacity
1100GB
1650GB
2200GB
Form Factor
Half-Height, Half-Length (HH-HL)
Interface
PCIe 3.0 x8
Controller
32-channel FPGA based
NAND
Micron 20nm 64Gbit MLC
Sequential Read
2.7GB/s
2.0GB/s
2.7GB/s
Sequential Write
1.4GB/s
1.0GB/s
1.4GB/s
4KB Random Read
549K IOPS
409K IOPS
531K IOPS
4KB Random Write
53K IOPS
30K IOPS
59K IOPS
4KB 70/30 Random Read/Write
195K IOPS
145K IOPS
200K IOPS
Write Latency
< 30 µsec
Max Power
25 watts
Endurance
2 DWPD
Warranty
Five years
The maximum throughput seems a bit low for a design that uses up eight PCIe 3.0 lanes since 2.7GB/s should be achievable with just four PCIe 3.0 lanes. Obviously performance scaling is not that simple but for example Samsung's XS1715 (which we will be reviewing soon!) is rated at up to 3.0GB/s while only consuming four PCIe 3.0 lanes. Using less PCIe lanes allows for more drives to be delpoyed as the amount of PCIe lanes is always rather limited.
The 1650GB model is even slower due to the fact that it utilizes less NAND channels because it is a middle capacity. Basically, the 1100GB and 2200GB models have the same number of NAND packages, with the 2200GB model having twice as much NAND per package; the 1650GB model uses the higher capacity packages but doesn't fully populate the board. HGST told us that they are just testing the water to see if there is demand for something in between 1100GB and 2200GB.
The FlashMAX III also supports Virident Flash-management with Adaptive Shceduling (vFAS), which is a fancy name for Virident's storage driver. vFAS presents the FlashMAX as a single volume block device to the OS, meaning that no additional storage protocols or controllers are needed, whereas some drives just use a RAID controller or need software RAID solutions to be configured into an array. Additionally vFAS handles NAND management by doing wear-leveling, garbage collection, data path protection, NAND-level parity, ECC, and more.
The FlashMAX III is currently being qualified by select OEMs and will ship later in this quarter.