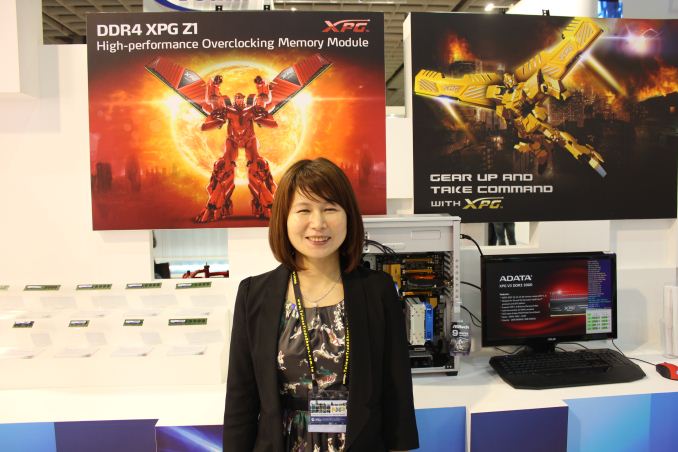 At this year's Computex, I had the opportunity to sit down with Mrs. Shalley Chen, ADATA's President, to discuss the current trends in the memory and SSD business, as well as get an overview of ADATA's future plans. Mrs. Chen has been with ADATA since the company was founded in 2001 and is also the wife of the founder, Simon Chen. Before stepping in as President in April this year, Mrs. Chen served as an Executive Vice President. Mrs. Chen also holds a degree in business management from the Ming Chuan University in Taiwan.
Before we get into the actual interview, I want to provide a brief overview of ADATA. The company generates over $1 billion in yearly revenue, which makes ADATA one of the largest memory companies in the world. Over a half of the revenue comes from the APAC (Asia-Pacific) region, which is logical given ADATA's Taiwanese roots and the size of the Asian market. The North and Latin America region ranks as the second largest revenue source with about 15% share in total revenue, followed by Europe and other smaller regions. In the interview Mrs. Chen hinted that Asia, Europe and especially Russia are potential future growth areas for ADATA since the memory and SSD markets are still in a developing stage, whereas in the US the markets are more mature.
ADATA has had an office in the US since 2002 and employs 41 people across two offices in Los Angeles and Miami. These are both sales and customer support offices with the LA office in charge of North America while the Miami office is responsible for Latin America. All R&D is done in Taiwan at ADATA HQ whereas production is split between ADATA's owned factories in China and Taiwan. While in Taiwan I took advantage of the offer to visit ADATA's headquarters and the Taiwanese factory, as well as take some images for another article. Ever since the company was founded, ADATA has been a memory centric company. Like many companies of a similar nature, the mission, as it stood from day one, is to become the global leading brand of memory products. Although the product portfolio has grown over the years to include newer products such as USB flash drives, external hard drives, SSDs, memory cards, and, more recently, mobile power banks - fundamentally ADATA is still a memory company. Over half of ADATA's revenue is generated by DRAM sales, and market researches rank ADATA as the Number Two DRAM module supplier in the world.
Given the high competition in the memory and SSD business, the question I always put to the manufacturers is this: what differentiates you from all the other brands? There are a dozen consumer focused DRAM companies, and there is little room for innovation or differentiation in the industry. Mrs. Chen told me that ADATA's best weapon against the competition starts from the diversity of the product portfolio to the close relations with both chip suppliers and distributors. Mrs. Chen was keen to point out that ADATA makes products for all three major markets (client, enterprise and industrial), giving ADATA several different revenue sources, and the percentage of revenues from enterprise and industrial is getting bigger and bigger. This directly implies that the enterprise and industrial segments are substantial to ADATA.
Big enterprise OEMs like Intel and Samsung are typically interested only in large enterprises that buy upwards of tens of thousands of units, which leaves the small to medium size enterprise market to OEMs like ADATA to fight for the rest of the market. For example, some of Samsung's enterprise products are only available to large OEMs (like EMC, Dell etc.), which leaves a niche for OEMs like ADATA and other smaller OEMs to offer better support for small to medium size enterprises. This also lends a benefit to work directly with the OEM for any customization.
Like other fabless DRAM and SSD manufacturers, ADATA does not manufacture the chips they use – ADATA have to buys them from the likes of Micron and Samsung. I asked if ADATA has ever thought about moving to chip fabrication, but the answer was negative. The main reason is the cost of a fab, and investing billions of dollars is a large risk. If we look at the major semiconductor fabricators, most of them have been in the industry for decades, developing new technologies as the research progresses. As a result, it would be extremely difficult for a new player to gain any significant market share without innovation or a wide product portfolio and mountains of investment (it is worth noting that innovation can come from start-ups that have new technology but get acquired). Another point ADATA raised is that it has close relations with DRAM and NAND suppliers, and thus has no need for a chip fab. In the end, the DRAM module industry is all about managing inventory against cost and potential sales, so the competitive advantage lies in forecasting the demand and managing the inventory efficiently.
The same applies to SSD controller development. Even though controllers can be fabricated by a third party, the capital required for the development and manufacturing is still a large sum. ADATA raised STEC as an example, which took the path to design its own controller platform but got into serious financial trouble due to the cost of the development. STEC ended up being acquired by Western Digital. ADATA does, however, have its own SSD firmware development team that has been in action since 2007. ADATA believes that the firmware team will play a key role to ensure competitiveness in the future. At this point in time, the team is mainly focusing on industrial SSD firmware development but there will be a change towards more unique firmware in the consumer side as well.
One of the big topics at Computex was the state of DDR4, and ADATA was heavily presenting its DDR4 portfolio at the show. Given ADATA's position, the company wants to be the leader in DDR4 and will aim to push the new technology quite aggressively to both consumers and enterprises. ADATA is one of Intel's six Haswell-E/X99 launch partners (the others are Micron, Samsung, Hynix, Kingston and Crucial), so there should be plenty of ADATA DDR4 available when the X99 platform launches later this year.
I asked ADATA whether the market for DDR4 will any different from current DDR3 from an OEM perspective. Mrs. Chen replied that DDR4 is different in the sense that right now DDR4 is mostly an enterprise product and will be sold through B2B marketing. The enterprise segment, due to the demand of more units per sale, also gets a greater benefit from DDR4, which is due to the lower voltage and higher frequency. The stereotypical scenario of hundreds of racks with each server equipped with eight to sixty-four DIMMs or more, lower power consumption on one module adds up and is thus always welcome. The speed should help enterprise workloads due to the tendency to be more often bound by memory performance than client workloads.
For the end-users, ADATA showed us there will be branded products at retail as well, but until the mainstream platform adopts DDR4, the enterprise segment will be the main market. In terms of production, ADATA believes that DDR4 will overtake DDR3 in H1'15 for the enterprise market, but the same will not happen in the consumer side until sometime in 2016.
All in all, there is a lot going on in both DRAM and SSD industries at the moment, so it will be interesting to see how the market reacts. We would like to thank Mrs. Chen and ADATA for their time giving us the opportunity to discuss the DRAM and SSD markets. As part of my visit to ADATA, I also met with ADATA's DRAM and SSD directors to discuss their technology at a lower level. Keep your eyes peeled for that article in due course.