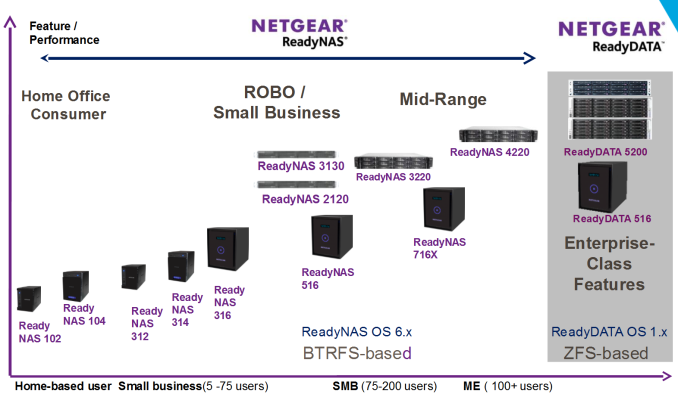 Netgear is introducing a trio of products targeting SMBs and SMEs today. The primary product is a modular switch chassis, while the second one is a new WLAN controller. Finally, we have an update in the ReadyNAS rackmount lineup. We will cover them in the reverse order.
ReadyNAS 3130
The RN3130 is a rackmount unit running an Intel Rangeley SoC clocking in at 1.7 GHz (likely to be the Atom C2338, which is a 2C/2T model). There are four GbE ports, and the unit runs ReadyNAS 0S 6.2 with the btrfs filesystem.
Netgear claims speeds of 220 MBps +. They are targeting the virtualization market - It would be interesting to see if they have the breadth of features and performance numbers that Synology provides in this market area.
The 4-bay RN3130 will cost $1500 diskless, a steep premium over the RN314 (based on the Atom D2700, albeit with only two GbE ports). Synology's DSxx15+ Rangeley lineup now comes with four network ports too and are priced well south of $1500 even for higher bay counts. Netgear is asking a hefty premium for the rackmount form-factor.
ProSAFE WC9500 WLAN Controller
Netgear already has the WC7520 and WC7600 WLAN controllers targeting small to mid-sized enterprises such as 10 - 150 and 50 - 200 room hotels / primary and secondary schools. The WC9500 is being introduced to complete this lineup. The target is mid to large-sized enterprises with high density of access points. Typical targets include 200 - 500 room hotels and schools / small universities. Each WLAN controller can support up to 300 access points, and three of them can be stacked (with one additional for redundancy). Netgear adopts a licensing model in increments of 10 access points. Supported APs include the WNAP 210/320, WN 370, WNDAP 350/360/660/620 and the WND930.
ProSAFE M6100 Chassis Series
Switches in the SMB / SME space are pretty mundane affairs. Usually, things that get talked about are the presence of 10G capabilities and/or associated pricing. Netgear is doing something different with the ProSAFE M6100 chassis series.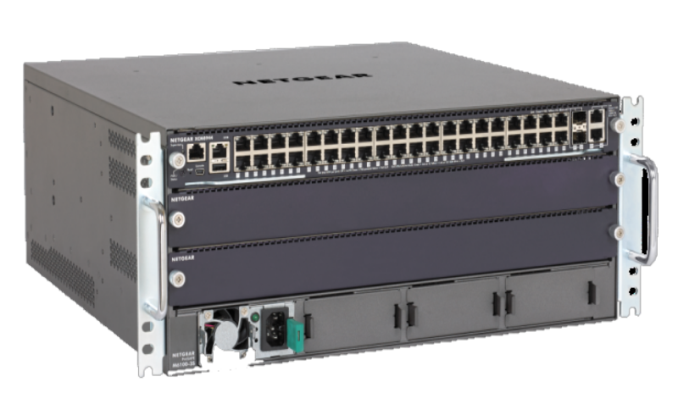 The M6100 is a 4U rackmount chassis with three open line-card slots in the front and a PSU bay with four power supply slots. We have a fan tray in the rear. This chassis (XCM8903) has to be ordered in conjumction with one or more I/O blades with different numbers of 1GBASE-T RJ-45, 1GBASE-X Fiber SFP, 10GBASE-T RJ-45 and 10GBASE-X Fiber SFP+ ports.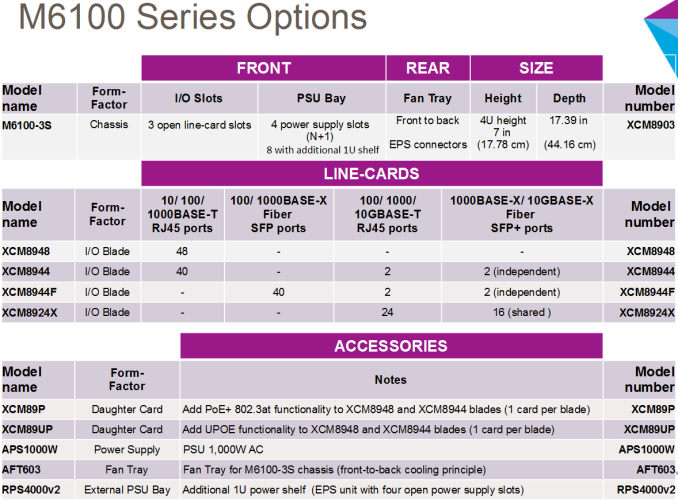 Accessories include daughter cards to add power-over-Ethernet (PoE) functionality, PSUs, fan trays and an additional 1U power shelf.
This type of modular devices allow the end user to evolve the network for the organization as the need arises. Netgear hopes to present this as a credible alternative to the HP 5400 router series by providing better features at a lower price point.