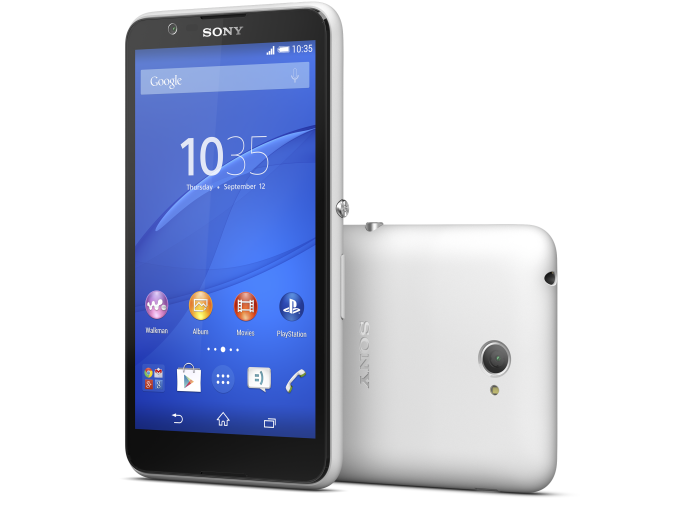 Sony has two fairly well defined lines of smartphones. Their Xperia Z smartphones and tablets represent their flagship Android devices, while their Xperia E line targets a more budget oriented market. Sony launched their Xperia E3 in September of last year, around the same time as the announcement of the Xperia Z3. Now, not even six months later, Sony is announcing the successor to the Xperia E3, the E4. From a purely aesthetic point of view, the Xperia E4 is larger and thicker than the E3, but has significantly smaller bezels surround the display. This means that the size of the device does not increase as much as one would expect from a shift to a 5" display from a 4.5" one. Moving past aesthetics, the specifications of the Xperia E4 have been laid out below.
Sony Xperia E4
SoC
MediaTek MT6582 1.3GHz 4 x Cortex-A7 + Mali-400MP2
Memory and Storage
8GB NAND + MicroSDXC, 1GB RAM
Display
5" qHD (960x540) IPS LCD
Cellular Connectivity
2G / 3G (21.1Mbps HSPA+)
Dimensions
137 x 74.6 x 10.5 mm, 144g
Camera
5 MP Rear Facing, 2MP Front Facing
Battery
2300 mAh
Other Connectivity
802.11 b/g/n + BT 4.1, USB2.0, GPS/GNSS
SIM Size
MicroSIM (Dual SIM SKU available)
Operating System
Android 4.4.4 KitKat
As you can see, the specifications of the Xperia E4 are strictly in the lower end of the mid-range. Unlike the Xperia E3 where Sony opted to use a Snapdragon 400 SoC in their mid-range phone, Sony has used MediaTek's MT6582 in the Xperia E4. MT6582 is a quad core Cortex-A7 part with a peak frequency of 1.3GHz paired with ARM's Mali-400MP2 GPU. Looking beyond the SoC, the other internal specifications of the Xperia E4 include 1GB of RAM, 8GB of NAND with MicroSD support, and a 2300mAh battery. Some of these specifications may be outclassed by other smartphones at the higher end of the mid-range segment, and so pricing will definitely be a key factor in making the Xperia E4 appealing to potential buyers.
On the back of the device we have a 5MP camera, and on the front we have a 2MP camera. The front is also home to a 5" 960x540 IPS display. Sony's effort to put in an IPS panel is definitely appreciated, but in 2015 a display with a pixel density of 220pi may be a hard sell when there's competition from devices like the Motorola Moto G with smaller display sizes and higher resolution. However, this again comes down to pricing. If Sony prices the Xperia E4 accordingly, then they should have no trouble making sales in their target market.
On the connectivity side, there's no LTE support to be seen. Network speeds max out at 21.1Mbps downstream and 5.76Mbps upstream on HSPA. There is support for Bluetooth 4.1, but WiFi connectivity is limited to 2.4GHz 802.11n. Like many mid-range devices, the Xperia E4 will come in a dual-SIM variant in certain markets where that feature is desired.
The Xperia E4 will be launching later this month in certain markets. There's currently no word on pricing or availability in North America.