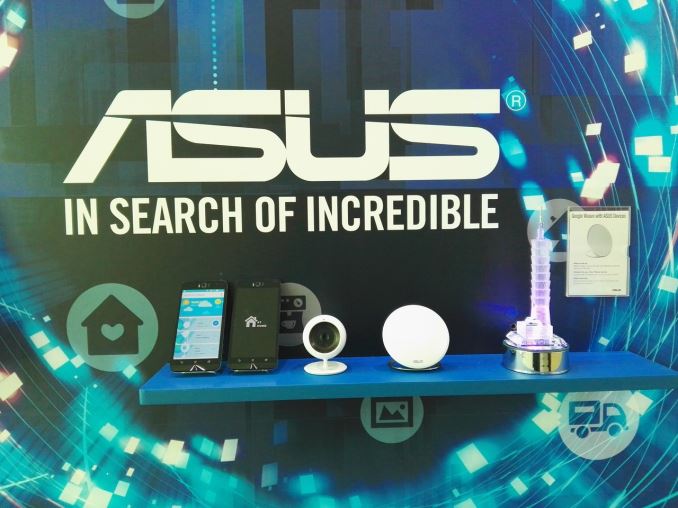 When ASUS emailed a couple of weeks before CES announcing that they had cancelled their press event for the show, we had a few question marks. Previous shows involve Chairman Jonney Shih's rapid fire but succinct delivery, announcing up to 10 products in an hour. ASUS' remit is large, so not having a press event seemed odd. It turns out that for 2016, Computex will be their show, and rather than announce the next level of stuff half-a-year early, CES will be a show for updates to current lines. Or so I was lead to believe – their booth at CES had numerous hidden gems.
Stage 1: Q&A Round Table with ASUS
In December we announced that CES would feature the next episode of the AnandTech Podcast in the form of a round table discussion and Q&A with ASUS' team. ASUS is celebrating 10 Years of the Republic of Gamers brand in 2016, and we saw an opportunity to rope in two former AnandTech Editors into the mix. You may remember both Gary Key and Rajinder Gill who both held my position, that of Senior Motherboard Editor, and were hired by ASUS on the back of their technical prowess during Athlon X2/Socket 775 to X58 coverage as well as deep DRAM dives. We were joined by Vivian Lien, Chief Marketing Officer of ASUS USA, who was Gary's contact when we started receiving Republic of Gamers motherboards for testing.
As part of the round table, we discussed how different the reviewing process was with those early models, as well as competition, community, and technical challenges that lead to some projects never seeing the light of day but can afford experience in future platforms. We also had some Q&A from our readers, asking for ROG smartphones, dual socket motherboards, and approaching the concept of more modularity.
ASUS volunteered their audio visual team to record and edit the event, and I understand that it is currently being worked on, including adjusting for the audio of a train horn going past every twenty minutes. We will post it in a separate piece when we get the video to upload.
Stage 2: The Hidden Gems of 10G
Readers of my twitter feed may have picked up on my interest surrounding 10 gigabit Ethernet for more than just the server room. Businesses with cluster farms often use high speed networking for obvious reasons, or for example Linus Sebastian at LinusMediaGroup has had 10 gigabit Ethernet installed in their offices and computers in order to have high speed access to networked lossless video files for several editors at once. In this environment, high speed networking makes obvious sense, and to go down the RJ-45 route (10GBase-T) can get expensive:
1) $760 for the lowest cost 8-port Netgear XS708-E router (or $1400 for the 12-port XS712E)
2) $350-$500 for an Intel X540-T2 dual-port PCIe x8 card per machine
This comes to $3500+ for an 8-machine layout, or $2150+ for four machines using teaming. Either way, at the lowest cost and buying new, the per-machine cost is north of $400. There are some motherboards that come preinstalled with 10GBase-T networking (we reviewed the ASRock X99-E WS/10G) although these also add expense over motherboards without 10G, but do not sacrifice PCIe slots due to extra PLX switches.
My deal with 10G is perhaps a personal quest. I don't run a small business, however I have a home with a personal content delivery network (my NAS) and over a dozen machines on the network in both wired and wireless formats. Aside from the family streaming high bit-rate video from the drives, my office has multiple machines that require access to ISOs and software throughout the day as part of their installs and tests. By having a 10G backbone at least, there is less room for delay, and anything we can do to speed up the review testing process like this is usually a good idea, especially if someone else is requiring content and the NAS can handle the bandwidth. It also helps for testing networking, something that has been on the cards for some time.
Buying an individual 10G card is easy. I picked up two X540-T2 based units last year for 500 GBP ($600 pre-tax), but without a route through a switch and access to a DHCP in the mix, it requires constant reconfiguration with each new system, adding testing delays and reducing usability around the home. It means that the switch is a bottleneck, because $760 is a sizable chunk of personal investment to anyone without a money-bin.
ASUS is half-solving this, with their new XG-D2008 and XG-S4016 switches.
The XG-D2008 is designed for an unmanaged home/SOHO environment, and comes with two 10GBase-T ports and eight 1G ports all based on RJ-45. The design is sleek (we were told this is near-final), and the unit is rated at 33W maximum power draw. Having two 10G connections is perhaps not earth shattering, but it allows two points to connect via 10G while also having eight others access to data, or it allows a series of switches to be placed in a 10G ring with 1G end-points on each part.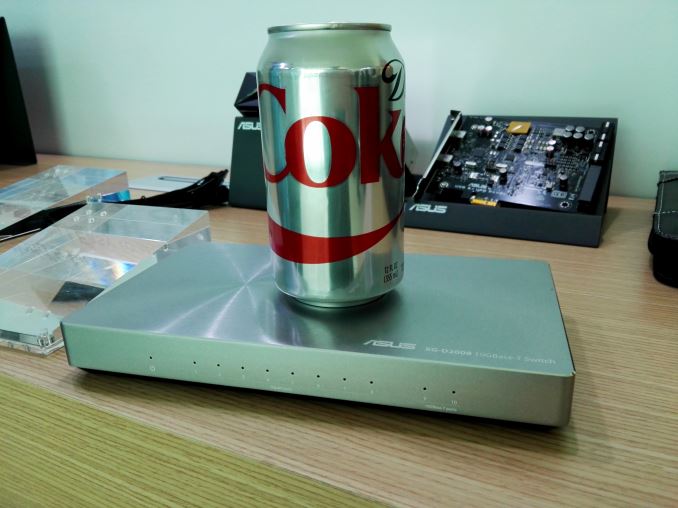 The price of this, we are told, will be around $300 MSRP. Arguably that's not bad for a dual 10G + octo-1G set up (I initially saw it and thought it was 10x10G for $300, which blew my top), and could help a number of environments. Moving to 3/4/5 ports is obviously what I am requesting for the future, just to enable one machine per switch in a ring to take advantage of the full 10G when needed. This is ASUS' first foray into 10G networking, so I'm hoping it continues down that route (and ideally at that price).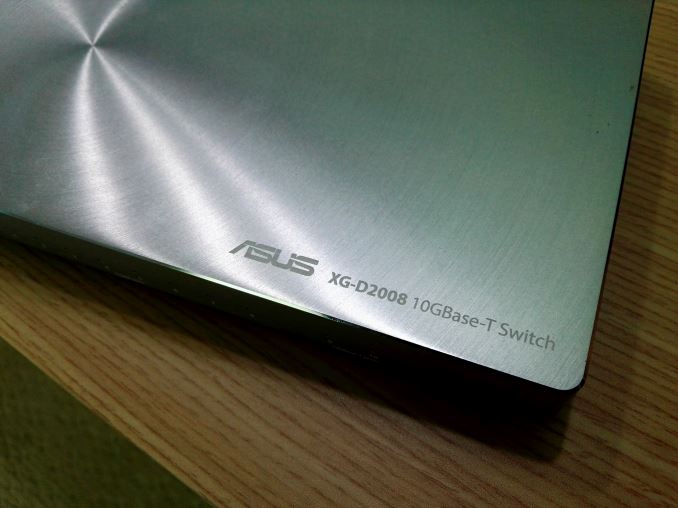 The other switch is a managed unit, the XG-S4016, and is more geared to office environments. It still has dual 10GBase-T ports, but also comes with two 10G SFP+ ports and sixteen 1G ports. The aesthetic is definitely different, but we were not told the price of this unit.
The second element to ASUS' 10G efforts is a PCIe card. We reported on the launch of the Maximus VIII Extreme/Assembly motherboard in November, which came bundled with a single port 10GBase-T card built on an Aquantia/Tahuti Networks MAC/PHY mix derived from one of Tahuti Network's own designs but with an expanded PCB and ROG branding. The card was present at CES, so we asked about availability and if it was going to be sold as a standalone unit.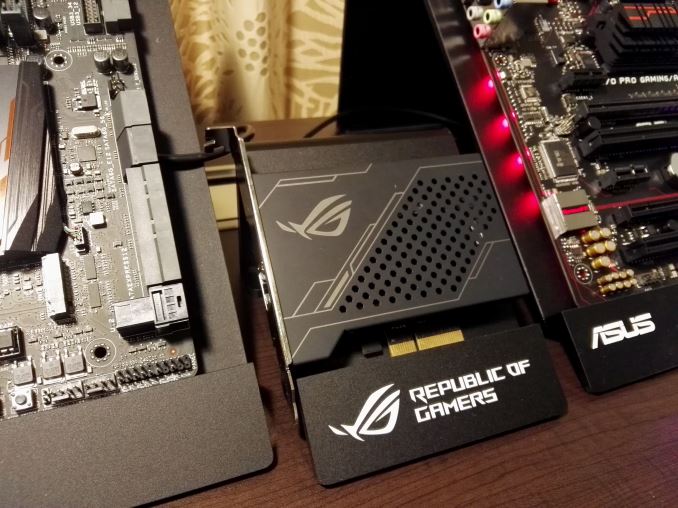 I was told that having individual sales of the card was the plan, but whether it would be exactly this card or something in the future was uncertain. While an Aquantia/Tahuti card isn't the industry standard Intel card (something tells me I need to run some metrics and testing), the fact that it would be out there and marketed to consumers is a plus and might bring others into the arena. Pricing could probably be in that $100-$200 range, depending on how many ASUS things they could make and sell, or how deep the contract and relationship with the IC vendors goes.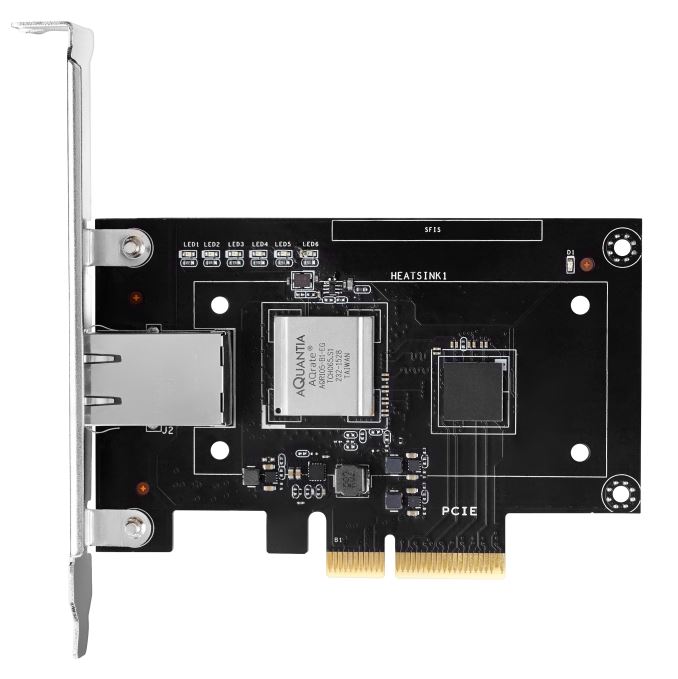 I'm always excited to see more 10G hardware entering the ring, especially for prosumer and enthusiast. One could argue that 2.5G and 5G are also around the corner and might see easier adoption depending on hardware, but truthfully both of those are more likely to play in the server space due to their benefits. The average family home does not even need Ethernet and uses Wi-Fi for most things, but you could also argue that the average family doesn't own an ROG based system either, and that is ultimately where the base of the scope of this lies.