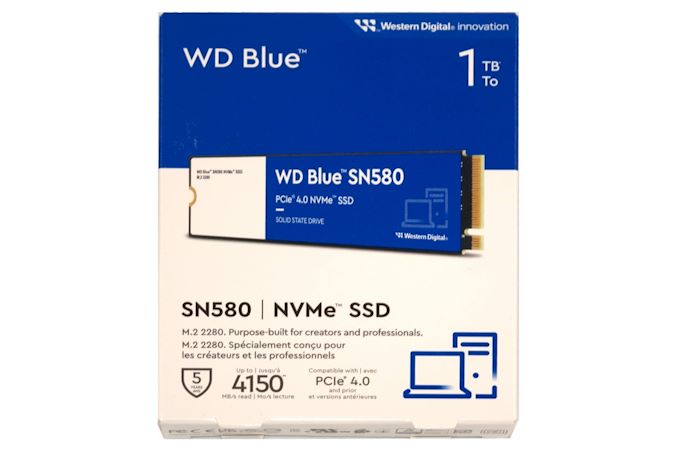 Western Digital is unveiling its latest addition to the mainstream WD Blue family today - the SN580 NVMe SSD. A DRAM-less PCIe 4.0 x4 drive, it brings in performance improvements over the current lead product in the line - the SN570 launched in late 2021. This DRAM-less drive is the first PCIe Gen4 SSD in the WD Blue lineup.
As a mainstream drive, the WD Blue SN580 is meant for consumer systems requiring quick launches of applications in multitasking scenarios, along with high responsiveness. WD has also optimized the firmware for fast loading of large-sized media assets (a nod towards content creators). Most importantly, the DRAM-less nature and a non-overreaching performance goal (up to 4150 MBps, which is on the low end for a Gen4 drive) mean that the WD Blue SN580's power efficiency makes it a good candidate for battery-operated systems.
The SN570 was launched in three capacities - 250GB, 500GB, and 1TB, with a 2TB model introduced later on. The SN580 family is launching today in four capacities, ranging from 250GB to 2TB. All drives are single-sided, come with a 5-year warranty, and carry a 0.25 DWPD rating. The key performance improvements over the SN570 are the increase in sequential read / write speeds from 3500 MBps to 4150 MBps, and random write IOPS from 600K to 750K at the higher capacity points. The move to a new Gen4 controller is the sole reason, as the SN580 continues to use the same BiCS 5 112L 3D TLC as the SN570. These drives will be equipped with 3D TLC over their complete lifetime, and will not move to QLC (which has now been consigned to the higher capacity WD Green NVMe SSDs).
Western Digital SN580 SSD Specifications
Capacity
250 GB
500 GB
1 TB
2 TB
Controller
SanDisk 20-82-10082
NAND Flash
Western Digital / Kioxia BiCS 5 112L 3D TLC NAND
Form-Factor, Interface
Single-Sided M.2-2280, PCIe 4.0 x4, NVMe 2.0
Sequential Read
4000 MB/s
4150 MB/s
Sequential Write
2000 MB/s
3600 MB/s
4150 MB/s
Random Read IOPS
240K
450K
600K
Random Write IOPS
470K
750K
SLC Caching
Yes
TCG Opal Encryption
No
Warranty
5 years
Write Endurance
150 TBW
0.25 DWPD
300 TBW
0.25 DWPD
600 TBW
0.25 DWPD
900 TBW
0.25 DWPD
MSRP
$28 (12¢/GB)
$32 (6.4¢/GB)
$50 (5¢/GB)
$110 (5.5¢/GB)
The combination of the in-house controller and NAND is actually not new. The same DRAM-less four channel controller has been seen in the recent WD_BLACK SN770 SSDs with the same BiCS 5 3D TLC flash. The main difference seems to be the firmware optimizations focusing upon normal consumer workloads and power consumption, rather than performance for gamers.

WD is claiming sleep power of 3.3 mW and average active power of 65 mW (in the absence of traffic). The company is also claiming that their SLC caching scheme (dubbed nCache 4.0) delivers significantly superior burst performance while consuming less energy compared to the SN570.
Flash pricing is quite low, with the memory industry being caught up in one of its downturns currently. This has translated to excellent launch pricing for SSDs such as the WD Blue SN580 - starting from as low as 5.5c per GB for the 1TB and 2TB SKUs.