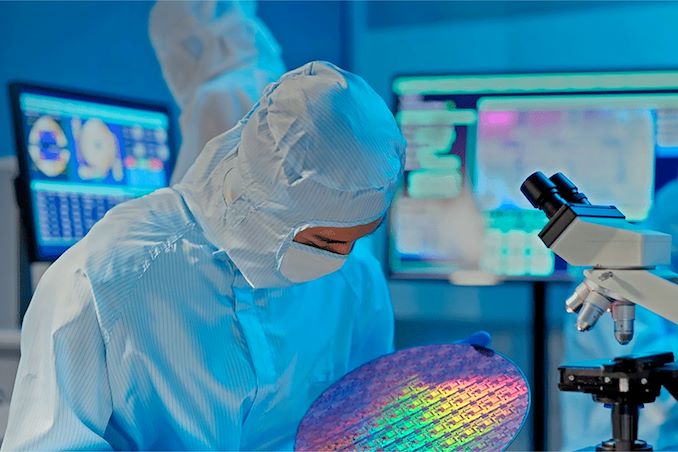 Samsung this week reported their financial results for the second quarter of 2023, closing the book on an especially bleak quarter of the year with a massive $3.4 billion operating loss. The losses, stemming from its semiconductor business, come amid a continued slump in 3D NAND and DRAM sales volumes and prices. Though buried deep in Samsung's earnings report was a speck of good news, as well: the company has started to produce its third 3nm chip design with stable yield.
Discussing Samsung Foundry's earnings, the company remains uncertain about demand recovery in the second half. "Demand to recover gradually under considerable uncertainty over the intensity of a market recovery in 2H, with consumer sentiment to rebound amid easing inflation and as customers wind down inventory adjustments," a statement by Samsung reads.
More broadly, Samsung revenue dropped sharply, with the company recording a 22% year-over-year decline to $46.915 billion. Earnings of Samsung's semiconductor divisions — including memory, SoCs, and foundry operations — declined to $29.86 billion, 48% YoY drop. Sales of memory hit $7 billion, a 57% year-over-year decline, though eking out a 1% quarter-over-quarter increase. Overall, Samsung recorded a $3.4 billion loss from its semiconductor operations due to low demand for commodity memory and declining commodity 3D NAND and DRAM prices.
But there were some bright spots in Samsung's DRAM business, as well. Demand for high-performance high-density premium products like DDR5 modules and HBM memory increased, which helped to partly offset slow sales of commodity memory.
"Bit growth exceeded guidance as we expanded sales of server products while actively responding to rising demand for DDR5 and AI-use HBM," Samsung said. "Demand for high-density/high-performance products stayed strong, driven by increased investments focusing on AI by major hyperscalers."
While Samsung expects demand for memory to recover in the second half, the company is expecting to enact additional production cuts to further support memory prices.
"We expect to see a gradual recovery of the memory market in the second half of the year, but the pace of the market rebound is likely to depend on our macro variables," said Jaejune Kim, executive vice president of memory division. "
Kim said that Samsung would be making further alterations to the output of some products, including 3D NAND.
"Production cuts across the industry are likely to continue in the second half, and demand is expected to gradually recover as clients continue to destock their (chip) inventory," a statement by Samsung reads.
Finally, as noted earlier, as part of Samsung's earnings report the company also revealed that it's started production on its third 3nm (GAAFET) chip.
"Mass production of our third GAA product is going smoothly thanks to the stabilization of the 3nm process, and we are developing an improved process for 3nm as planned based on mass production experience with GAA," a statement by Samsung reads.
It recently transpired that Samsung Foundry has been producing the Whatsminer M56S++ cryptocurrency mining ASIC on its SF3E node (formerly known as 3GAE, 3nm gate-all-around early) for some time. It turned out a bit later that there is PanSemi, another developer of cryptocurrency mining hardware, that uses Samsung's SF3E to make its mining ASIC. Now, Samsung confirms that there is another customer that uses its latest production node, though the company isn't disclosing any further details about the client or their chip.
Producing tiny cryptocurrency mining ASICs is a good way test a new fabrication process on a commercial application since even with a relatively high defect density, yields of such chips will likely be good enough to be viable. Meanwhile, Samsung Foundry's SF3E process technology promises to increase performance and cut down power consumption of cryptocurrency mining ASICs (vs. similar chips made on previous-generation nodes) and these are exactly that targets that miners would like to hit to boost their earnings.
Sources: Samsung, Reuters, Nikkei, SeekingAlpha